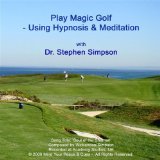 Is it worth 99 cents to see if listening to "Soul of the Shaman" can help you play better golf?  Hard to say.  But it is tempting to spring for this MP3 given the price and the 26 minute running time.  You can sample it before you buy.
It's from Mind Your Peace & Cues and recorded at Academy Studios in the UK.  Too bad the cover art doesn't come with it.
Click here to buy it for $.99 as an Amazon MP3 download for your iPod, Zune or other MP3 player.