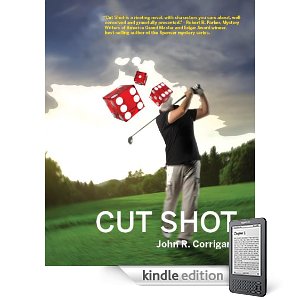 Wow, what a deal, only $.99*. Here is a highly reviewed (4.5 of 5 stars on Amazon) novel from John Corrigan about a guy named Jack Austin.
Jack is engaged, making a living, and still believes in the PGA Tour's integrity. Then Hutch Gainer reveals a gambling ring. Jack's fiancée, a CBS commentator, investigates. In this golf mystery, Jack enters the underworld to prevent scandal but finds murder and a contract on his life.
"A wonderful novel that mixes good mystery into the world of golf, sports and the principles of good vs. bad." — Linda Hunt Willis, Rockwall County News, October 24, 2001
"CUT SHOT" is a riveting novel, with characters you care about, well conceived and gracefully presented." — Robert B. Parker, Edgar Award Winner & Author of Bestselling Spenser Mystery Series
"John Corrigan's thriller artfully blends the glamourous PGA Tour with the attempts of organized crime to co-opt the game." — Les Standiford, author of Deal with the Dead
* As always, noted prices are the price of the media product as of the date of this posting.
Want to get notified of these deals automatically? Subscribe via RSS
NOTE: Kindle edition books can be read on any PC, Mac, iPhone, iPad, Android device, certain Blackberry's and of course, an Amazon Kindle reader.