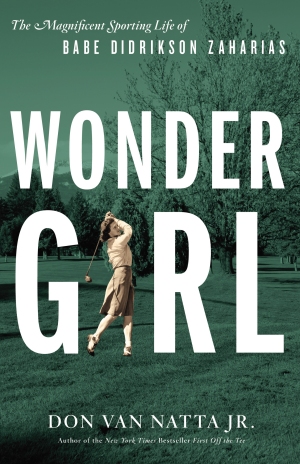 "It would be much better if she and her ilk stayed at home, got themselves prettied up and waited for the phone to ring."
Fortunately for us Babe Didrikson Zaharias did not listen to sportswriter Joe Williams but the quote does capture the state of affairs for women athletes in the early 20th Century.
Named one of the Top 10 athletes of the 20th Century, Babe Didrikson Zaharias's accomplishments are legendary.
-Two track and field Gold Medals and one Silver Medal (1932 Los Angeles Olympics)
-All-American status in basketball
-Expert diver, roller-skater, and bowler
-The first (and currently only) woman in history to make the cut in a regular PGA Tour event
(Oh, and she was an expert seamstress making many of the clothes she wore, including her golfing outfits.)
In this biography of Babe's life, author Don Van Natta Jr. brings to life the extraordinary life and sporting career of golf's first female superstar.
A founding member of the LPGA, Babe (named after Babe Ruth) won more consecutive tournaments than any golfer in history. But near the peak of her fame she was diagnosed with colon cancer. Never one to give up, a month after undergoing surgery Babe won her 10th and final major with a U.S. Women's Open championship.
"Wonder Girl is a wonderful read about a woman who charged through life shattering stereotypes on the playing fields and off. As a boy I followed her amazing career in the sports pages as she changed the face of golf and the Olympics but now, thanks to Don Van Natta, I have the complete story of this authentically American trail blazer who was so much more than just a gifted athlete." (Tom Brokaw )