Summer may be half over but there is still time to get your son or daughter out to the course for some quality time.  Here are three good DVD-based instruction videos geared to kids to help make your job easier. 
gotGolf? Teaching Kids Golf: Swing Fundamentals by Pam Bowers (Amazon ranking: 45,494)
Pam Bowers, multiple winner of the U.S. Kids Golf Top 50 Kids Teacher Award, delivers an informative and fun tool you can instantly apply when teaching golf to kids. This instructional DVD includes advice on equipment, grip techniques, how to teach the power zone and solid swing fundamentals. Practice recommendations and drills are included to help you encourage junior golfers to develop a solid swing foundation.
Golf Fun and Fundamentals for Kids (Amazon Ranking: 46,784)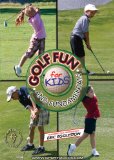 This DVD introduces children to the basics of golf. Among the topics covered are: rules and etiquette, putting, chipping, pitching, irons and woods. Numerous drills and games are also demonstrated to help make the game fun for kids while developing their skills. This program will appeal to parents and young golfers just starting out, as well as those already familiar with the game.
The Better Golf Academy: Better Golf for Kids Vol. 1 (Amazon Ranking: 63,572) By James Pugliese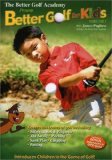 Learn the fundamentals for improving your golf game.  It covers the basics of golf including: Safety & Getting Started, The Swing, Pitching, Sand Play, Chipping, Putting, Playing by the Rules.  Includes bonus interactive DVD quiz.  James Pugliese founded The Better Golf Academy with a strong desire to simplify the golf swing and teaching method for children of all ages and abilities. The Better Golf Academy is one of the largest providers of at-school golf lessons in the U.S.