Are you an author, editor or developer of golf media products such as books, Kindle ebooks, videos, magazines, apps, etc.? 
GolfMediaLibrary.com provides authors and developers of media a platform to promote themselves and their products.  GolfMediaLibrary.com is the perfect place to reach your audience. 
Here is what Dr. Bradley Klein, author of Discovering Donald Ross and Rough Meditations has to say:
Why not join our growing list of of notable personalities and share you thoughts. It's the perfect win-win formula.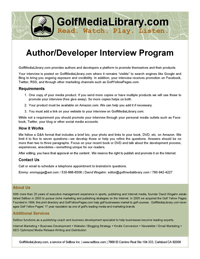 We invite you to contact us with details about your product and what makes it special.  If approved the requirements are simple and involve co-promotion, copies of your media product and availability on Amazon.com.
Who reads GolfMediaLibrary.com?  That's easy, golfers of course.
Do you write reviews or blog about golf media products?
Contact us about submitting a guest post.