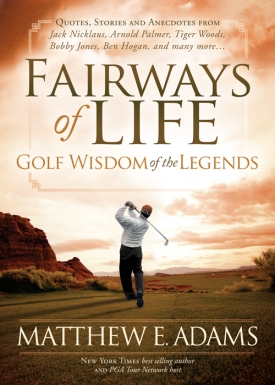 Sirius XM Radio host and New York Times best selling author Matt Adams has assembled a compendium of inspiring golf quotes–and there are many. One reason for their quotability might be because they apply so well to the game of life.
Here are a few:
"I think that to score in golf is a matter of confidence, if you think you cannot do it, then there is no chance that you will." — Sir Henry Cotton, Open Champion 1934, 1937, 1948, Ryder Cup Captain 1947 and 1953.
"Don't hurry, don't worry. You are only here for a short visit, so don't forget to stop and smell the roses." –Walter Hagen, U.S. Open Champion 1914, 1919, Open Champion 1922, 1924, 1928, 1929, PGA Champion, 1921, 1924, 1925, 1926, 1927.
"Golf reflects the cycle of life. No matter what you shoot, the next day you have to go back to the first tee and begin all over again and make yourself into something." — Peter Jacobsen, U.S. Senior Open Champion 2004, Senior Players Champion 2005.

You don't need to own a Kindle reader to read Kindle ebooks.