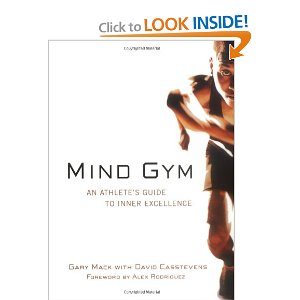 On the heels of the holiday season today's pick is the number one most wished for golf book on Amazon: Mind Gym. It has 42 reviews and the majority of them highly positive with an overall rating of 4.
While the title doesn't suggest golf it does address what Bobby Jones once referred to as the "five-inch course – the distance between your ears".
Drawing on his work with some of the top teams in professional sports, noted sport psychology consultant Gary Mack shares with you the same techniques and exercises he uses to help elite athletes build mental "muscle." It contains 40 accessible lessons and inspirational anecdotes that will help you gain the "head edge" over the competition.
Click here for more information.