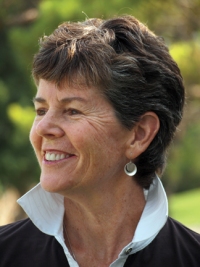 You might say that golf runs in Annie's blood. She had uncles who were captains of the Notre Dame and Georgetown golf teams and began her golf career as a tournament official for the Women's Professional Golf Tour out of Palo Alto, Calif. She was the 5th woman in California to obtain her PGA Class A status–today only 500 women out of 22,000 PGA professionals hold Class A status.
A teacher for more than 22 years, Annie has compiled a number of stories and anecdotes into a little book she calls The Golf Letters. It's available in print as well as the Kindle ebook format.
Annie shares a few of her thoughts about teaching and golf.
1. Do you ever tell your students stories from Golf Letters? Which ones get the most laughs or get people to think the most?
Yes, all the time. I find that the student needs to have levity brought to the lesson as this enhances the learning. Sometimes they tell me an anecdote, and I say, "Oh, that little story will be in my next book." They like that idea. The student is my best source for everything I learn while teaching. Here are a couple of short anecdotes that are included in the book:
Playing Through
A friend of mine was playing with his regular group of buddies. They came upon a foursome of ladies on a par 3. The ladies were not moving along expeditiously. They hit their tee shots on the par 3 and were chatting up a storm. There was some extra room between the ladies and the group ahead who were already on the next hole. The women waved the group of buddies up and said, "Why don't you play through here?"
The buddies agreed and they hit their shots and began walking to the green. They noticed the ladies were now hurrying up which they thought a bit odd. However, they continued on up to the green. They arrived at the green, only to see the ladies there ahead of them and hitting their shots.
The buddies exclaimed, "We thought you wanted us to play through?"
The ladies looked at them, smiled and exclaimed, "Yes, we did, but we got here first!"
Golf and the Pyramids
The pro shop, the driving range, the clubs, the bags, the balls and many things about golf can be intimidating to someone who hasn't been educated on its procedures. I have a good friend who runs programs for Girl Scouts in Montana. She recounted her first foray to the driving range and her first time at a very nice resort. All the range balls were piled pyramid style, as they sometimes are for presentation and appearances only.
My friend told me she thought the pyramids were very nice and she began to hit. She figured it was going to take forever to hit all those balls. Yes, she thought she had to hit every last ball in the pyramid. No one told her otherwise.
So, she proceeded to do just that. She had to hit fast, though, because it was a warm-up for her game. She was to tee off in 15 minutes. She did manage to hit the whole pyramid, but obviously, was worn out for her round of golf!
2. What do you talk about in your speaking engagements?
I usually gear my speaking engagements to the audience, just like I do with my golf lessons. I start by telling a few of The Golf Letters, Tee Tales anecdotes and go on from there. There is usually a universal common theme found in the anecdotes, whether it be humor or fear or another human emotion that golf seems to bring out. I elaborate on this particular thought and give suggestions and tips on how to overcome obstacles. I find that stories are the true teachers. In a way, these are parables. They bring forth a point without hitting the reader/golfer/audience member over the head with it. Humor seems to allow the sensory system a chance to not "try" so hard. After all, golf is a difficult game! Here is an example from my book that tries to make a point, subtly: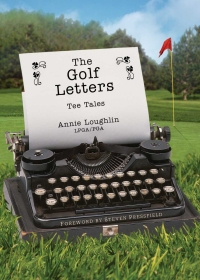 Smith Barney
I was teaching a group class on using the woods. The driving range was full of other golfers practicing. I purposely said a bit loudly, "Now I am going to tell you the secret of golf." I wanted all the golfers on the range to hear, because it was like that Smith Barney commercial where everyone stops what they are doing and cups their hand to their ear so they can hear the secret. As soon as I saw the other golfers who were not in the group perk up to listen, I whispered to each student in the group very quietly so it appeared that they were, indeed, receiving the secret to golf! What I whispered was, "There is no secret!" I wish I had a camera to record some of the looks I received. They were forlorn looks. No secret for them, at least not that day!
3. You use the word recovery when talking about golf and life, why?
This book is about both golf and life. And, they are nearly synonymous, don't you think? Life. Golf. Both 4 letters to start off with, and then, you add in a defined playing field that has a start and an end, and yes, life comes to mind. As does golf. And, in the end, the day by day of golf and life boils down to one word: RECOVERY. We are always recovering in some form from our last swing, our last encounter, etc. This is true whether it is a positive outcome or a not so good outcome.
4. You've worked with men, women and children. Can you describe your favorite type of student?
As an instructor, the politically correct thing to say is that I don't have a favorite type of student. However, being human, I can tell you that after giving thousands of golf lessons over 22 years, the student that is the easiest to work with is one that has truly defined their golf goals and wants to have FUN in the process of meeting these goals. They know, inherently, that golf is a GAME and that there are many parts to it, aside from the scoring alone! Through the years, I have really learned a lot from teaching kids. They know how to PLAY! As adults, most of us turn into critics and we are always criticizing ourselves for the various outcomes we produce on the golf course. Not so with the kids. They are out there naturally having fun and being "present" to their experience. In a way, this is the "state" that I attempt to allow my students to enter into as they take their lesson and continue to play the game of golf.
5. You were recently appointed to The PGA National Instruction Committee. What does this committee do and what is your role?
Yes, thank you. This has been an honor. Allen Wronowski, current PGA of America President, appointed me to this committee. It is a collection of PGA leaders called together to discuss the current state of golf instruction in America. We met this past March in St. Louis and will meet again in the Fall in Maryland. The concern is that more people are leaving the game of golf and we, as an industry, need to do better to retain them. What we are discovering is that we need to make golf fun, allow it to take less time, and become more welcoming to the non-traditional golfer, as well as get more creative in our programming.
6. People are playing less golf and fewer are entering the game. As a tenured teacher, what is your perspective on making the game of golf more accessible?
I am in agreement. And, at the National Instruction Committee Meeting, we all agreed, based on some extensive research, that we need somewhat of a paradigm shift in order for golf to improve its numbers. However, my take on this is also that not everyone should really play the game. It is a hard game. We can't force people to play. They need to have a passion for it. We need to keep the players we have and invite more women and juniors into the game. We need to make the game more family friendly. More programs may not be the answer. Some of the complaints are that golf takes too long, is too difficult, and is too expensive. I believe all of this to be true in a lot of cases. I think we need to promote more playing of 3, 6, 9, 12 or 15 holes in addition to 18 holes. This would not have to interfere with the regular golfer's game, but maybe people should be able to "pay per hole" in golf. This might help. And, maybe we need to involve more technology on courses using smart phones to entice the younger golfers. Their lives are spent texting, using apps, and on Facebook and Twitter. In a lot of cases, kids are not comfortable outdoors. They find it boring. Hard to believe, but if we somehow included some technology, this might entice them.
But, remember, golf is not for everyone, just like knitting or bowling is not for everyone! Let's encourage people to have fun and the passion will follow. We can't coerce people to come play golf. Maybe the game just grew too fast and now we are seeing a correction. Time will tell. But, in the meantime, my love and zest for the game will never fade! Thank you!