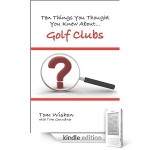 Those of you who are reading books on a computer or portable reading device have probably come across more than one or two free books.  Then you have books that are just a few dollars.  Today's pick happens to fall into both camps, but more on that below.
Custom clubmaker and author Tom Wishon has dusted off his two year old Ten Things You Thought You Knew About Golf Clubs and brought it out again, this time as a Kindle edition. 
In it he dispels common myths such as:
The lower the loft on your driver, the farther you'll hit it.
Your new driver has a larger "sweetspot."
You are playing a stiff shaft, because it says so on it.
Women's clubs are designed for women.
"Most golfers are playing with clubs that will not—and can not possibly—meet their needs. They are designed from the factory to be wrong for their size strength and swing characteristics."
If you prefer a nicely formatted Kindle version for reading on your Kindle or other supported device you can click here or the image above and buy the book for $4.95 (7/15/10 price). 
But if you want to save five bucks you can read it here.