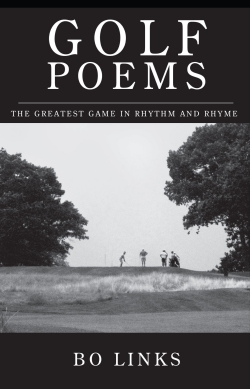 Author Bo Links, avid golfer and steward of the game has just released his newest book: GOLF POEMS – The Greatest Game in Rhythm and Rhyme. This well-written collection of poems provides a riveting reflection about the game, one that will resonate with any golfer who picks up this handy pocket-size book. As the title implies, the book conveys a meaningful image as to what makes the game so engaging, so special.
Here is Bo to tell us a little bit about the book.
1. What motivated you to write Golf Poems: The Greatest Game in Rhythm and Rhyme?
The game has always fascinated me. Every round is an adventure, no two shots alike. I wanted to capture the essence of all this in a little book that would be accessible to everyone. I also enjoy the game with my friends at the 19th hole and I wanted to provide stanzas for toasts that can be used any time, any place — but which will strike a responsive chord with golfers anywhere in the world.
2. You've described this book as an exploration of golf? Please explain how and why?
What is it like to be afraid on the green? Anyone who's been there knows what I'm talking about. So go read "Desperate Thoughts of A Bad Putter." It cuts to the bone with respect to a fear over a three-footer for all the marbles. The same is true when it comes to wind, which is the game's most difficult (and fickle) challenge. So I wrote "The Wind By Any Name." I've tried to touch on all aspects of the game in a very short, little space.
2. This is an impressive compilation of poems, which echo your thoughts and feelings about the game of golf. Within the collection you must have a favorite. If so, which poem and why?
These poems are like children. I love them all. And within them, there are stanzas that ring in my ears. Like this final one from "Home on the Range." It speaks to the fact that optimism is a vital trait we should all cultivate:
For the true golfer knows
That dreams never die
As long as he swings
And continues to try.
There is a similar vein in that poem about the wind:
When, at last
The sun has set
And dusk begins to grow
With all our strokes recorded
We'll reflect, and smile, and know
That though the wind was raging
And stole from us the score
We'll rise at dawn tomorrow
To battle it once more.
3. You've given back to the game of golf for many years now, especially through your ongoing advocacy work in support of public golf. One of the projects you are most passionate about is "Saving Sharp Park"… a MacKenzie-designed golf course, in Pacifica, Calif. You've even written a poem about this course which appears in Golf Poems. Why such a connection to this modest, public course?
There's an old saying: Still waters run deep. A corollary is that simple things touch us the deepest.SharpPark is a simple place, but the vibe there is so undeniably pure that it represents all that is good about the game. There is no class distinction there; no division. We're all equals, fighting the same fight, struggling against the same demons. And when the battle is over, we retire to the same bar to drink together, laugh together and sometimes to cry together. And when you consider that all of this takes place in an incredibly beautiful place, where Alister MacKenzie worked his magic for public course golfers 80 year ago….well, how can you not save it? I can't say it any better than that.
4. Golf Poems isn't the only book you've penned. What other pieces of work have you written/published?
My first book, Follow the Wind, is the story of a young boy who meets up with Ben Hogan. Together they explore the richness of life itself and what makes golf such an important part of it. The story had touched golfers (and non-golfers) the world over. I once bumped into Deane Beman, former PGA TOUR commissioner, who told me he regularly read the story to his grandchildren when they were growing up. Quite a compliment.
My second book, Riverbank Tweed & Roadmap Jenkins: Tales from the Caddie Yard, is a series of related short stores, all told in a caddie's laconic voice. I apply golf's many lessons to life beyond the fairway. The characters are unforgettable, as are the events that take place. A game of "one ball" at Harding Park and a US Open qualifier during a lightning storm at Cypress Point.
I've also written several extended essays about golf in San Francisco, including Return to Glory (about the 2005 AmEx battle between Tiger Woods and John Daly at the restored Harding Park) and More Than A Game (about the 2009 Presidents Cup Match at Harding as well as the establishment of a First Tee facility at a troubled middle school in the middle of one of the City's worst neighborhoods).
I try and strike a responsive chord with golfers the world over. Ben Crenshaw recently wrote to me after reading Golf Poems to say that the game is fortunate to have people like me out there writing about it with such passion. It was one of the nicest compliments I've ever received.
5. If you had only one round of golf left to play, where would it be (name course) and who would accompany you in the foursome?
The Old Course atSt. Andrews with Ben Crenshaw, Bobby Jones and Old Tom Morris…playing with Old Tom's equipment.
The book is available exclusively at Amazon, both in paperback and e-book form. Paperback is $12.99 and the Kindle version is $2.99.
About the Author

BO LINKS is a San Francisco attorney and an avid golfer and has spent a lifetime plumbing the depths of the ancient game. He has written two previous golf books: Follow the Wind and Riverbank Tweed and Roadmap Jenkins-Tales from the Caddie Yard. Links has dabbled in golf architecture (having twice won the Lido Design Contest sponsored by the Alister MacKenzie Society), and helped organize local golfers through the San Francisco Public Golf Alliance in an effort to preserve affordable golf. His latest effort in that regard has been the battle to Save Sharp Park, a treasured Alister MacKenzie course located in Pacifica, CA, just 10 miles south of San Francisco. He has served on the United States Golf Association's Green Section Committee for more than 20 years and is frequently a keynote speaker at golf association meetings and conferences addressing issues of immense importance to golfers and the golf industry.If you are interested in Bo Links as a featured speaker for your organization or corporate golf outing, contact Patty Burness at (415) 564-3890 or via pburness@sbcglobal.net.