How did you come up with the idea for The Ben Hogan Collection?
A few years ago when I decided I would get back into golf I remembered fun days of playing with brand new custom Ben Hogan Golf clubs, my first set of clubs and the instructional books. So I proceeded to go out and start collecting on eBay.  I started quite a collection then I saw there were some films on instruction and I began collecting those.   At one point I hit upon an eBay sale, an auction going on for a 3-minute video clip of Mr. Hogan on a driving range, the 1967 Masters.
Well I missed out on buying that one but in the process discovered the seller had not only a few more, he had a whole lot more. I think there was 32 film rolls in all between him and his partner.  I ended up buying them all.
Fortunately I had gotten to know Jim McLean through his golf school at the Doral Golf Resort here in Miami.  I mentioned it to him and so he was waiting for something like six months while I assembled them into a tape.  It really was pretty neat. He took a look at it and said to me, I remember the words, "Tom you really need to do something with this."
Did Mr. Hogan's family participate?
I contacted the family through their attorney and told him what I wanted to do.  I tell you, I was so nervous to do that because I didn't want to get no for an answer.
So he asked for a written proposal and forwarded it to the family of the estate.  They said basically okay so we came up to some terms and an agreement for the rights to use Mr. Hogan's image and such in all the DVD production and marketing and advertising and went ahead with the written agreement.
What information does it include?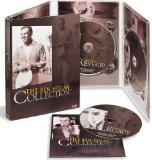 It was originally envisioned as a single DVD but quickly expanded to a three DVD set. Most of the major content was what I received through that original purchase from the videographer; lots of Hogan swinging the club but other segments like him talking to Sam Snead during a practice round and playing with Gardner Dickinson and Jackie Burke at the Masters. I mean there's all this neat stuff that nobody had ever seen before and I just felt personally that a lot of other people would enjoy watching it.
My main goal was to put this together in such a way that folks would be able to see a lot more of Mr. Hogan in his prime and then during his later years out on the golf course hitting golf balls and learn by watching what he did.
You had other golf greats in the Collection as well, right?
The real help in that regard came from Jim McLean.  He knows everybody.  We interviewed Jack Nicklaus for 45 minutes and his time is like gold.  I mean it's impossible to do stuff like this and he jumped in there and said, "Oh absolutely, sure. Is his family involved?" That's all he asked and he said yes.
We also had a chance to interview Butch Harmon, Bob Toski, Jackie Burke, Jimmy Ballard and many others.  There is footage of the Ben Hogan room at Golf House as well.
What are you working on now?  Is there a follow-up to this? 
We have a number of projects planned using our existing footage.  A documentary DVD as well as applications on the iPhone, iPod and getting into that market.
What I'm most excited about is that we were granted the extended right with the family to take Five Lessons, The Modern Fundamentals of Golf book that's been in print for over 50 years to DVD and into the digital domain.  Part of that is the creation of a Ben Hogan avatar similar to what you see in the movie Avatar and/or video games of various types. 
We'll create an avatar of Mr. Hogan that has him swinging a golf club with the ability to go in and look at his swing from any angle, top, bottom, side, back, front, close up.  What a master to learn from.
More about Tom McCarthy: McCarthy has more than 30 years experience in the human services profession and holds a masters degree in behavior analysis.  Most notably, he minored in film studies at Florida State University while majoring in psychology.  In 2005 McCarthy established MeTee's Champions LLC, the publisher of The Ben Hogan Collection, and manages planning, finance, production, marketing and sales of the Collection and related media and accessory products.