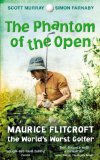 This newly released biography (August 2010) chronicles the life and exploits of "The Royal & Ancient Rabbit", 1976 Open player Maurice Flitcroft. 
Flitcroft was a chain smoking crane driver from Barrow-in-Furness England who decided to enter the 1976 Open.  When he discovered, to his shock, that any amateurs entering competitions needed an official handicap – something he lacked – he simply declared himself to be a professional. (more)
This is the story of the World's Worst Golfer.