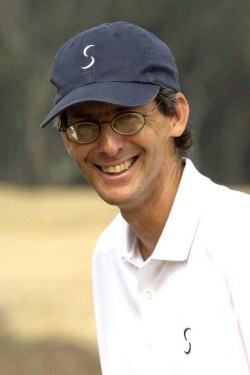 It's been 10 years since Bradley Klein first published his well-received survey of the artistry of Donald Ross. It was lauded at the time as "…the most thoroughly researched book ever produced on the life and work of a golf course architect." (Brian McCallen, Golf Magazine).
Here is what Bradley has to say about this new expanded edition:
What motivated you to write such a detailed chronicle about the life and work of golf course architect Donald Ross?
I am a trained academic, used to working for weeks and years in libraries, and there was no sustained, serious book about the life work of any designer that wasn't a puff piece. So I thought it was time to explore a golf course architect as a craftsman and as a professional and to treat them much like one might treat a musician, writer or artist for what influenced them and how their entire body of work evolved.
What will readers discover about Ross in this recently released 2nd edition of Discovering Donald Ross that was absent in your original 367-page book about the famed architect?
The expanded edition deals with restoration developments the last ten years; how Ross and classical design became an accepted part of the American golf course landscape; and how in the process Pinehurst No. 2 has been totally reshaped.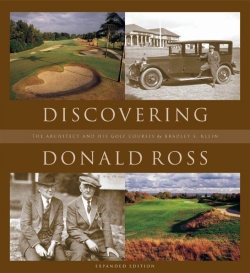 In addition to your work as architectural editor for Golfweek, you are considered an authority on the work of Donald Ross. What separates his design work from other course architects?
He did exquisite routings — incredibly efficient, no wasted space on the site, and he had a simplicity of form and yet endless variation of shot angle, of deflection into the green, and of the consequences for a slightly off line shot. He was subtle — something that is sorely lacking today and that even his contemporaries were not strong on.
Conducting research on the life of Ross must have been a project in itself. Where did it take you? Any unusual discoveries?
Three years, 150+ courses, every house Ross lived in, I even slept in two of his bedrooms, found his old caddie in Pinehurst, kneeled at his grave, spent a lot of time with his daughter and also his granddaughter, even walked the path he took off the boat in Boston when he arrived in April 1899. Spent 100 days in Pinehurst, and the folks at the Resort were very gracious in putting up with me.
After completing this 2nd edition of Discovering Donald Ross, are there any unanswered questions about this gentleman or his work? If Ross were alive today what questions would you be compelled to ask?
I am amazed at his ceaseless train travel; I'd like to ask if he regrets having done so many courses (400) that he couldn't see them all or refine many of them. I'd also like to know what he would do differently with today's distances; he was designing in an era when 200 yards was a good drive.
About Bradley Klein
Bradley S. Klein is architecture editor of Golfweek magazine and runs its national golf course rating system. A former PGA Tour caddie and 2006 inductee into the International Caddie Hall of Fame, he holds a Ph.D. in political science and enjoyed a distinguished academic career in international relations before retiring from university research and teaching in 1999 to devote himself full time to golf writing.
He has written and lectured widely on sports media, golf design, the golf development industry, golf course operations and maintenance. He is also a design consultant, including involvement in Old Macdonald, the fourth course at Bandon Dunes Resort in Oregon, opened in 2010.
Klein won the Golf Writers Association of America's award for the best column of 2006. His golf books include a collection of essays, "Rough Meditations" (1997, 2006), and two club histories, "Desert Forest Golf Club: The First Forty Years" (2004) and "Sebonack: Classic Golf by Jack Nicklaus and Tom Doak" (2006, 2009). His next book, due out in 2012, is "Wide Open Fairways: The Landscapes of Golf."
Bradley Klein's Image Courtesy of Jim Mandeville