The award-winning Al Barkow has been writing about golf for some 55 years including his tenure as former editor-in-chief of Golf and Golf Illustrated magazines. Al's book Gettin' to the Dance Floor: an Oral History of American Golf, won the first USGA International Golf Book of the Year award in 1986. He is also the 2005 recipient of the PGA's Lifetime Achievement Award.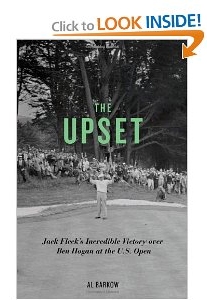 In addition to his new book, The Upset, Barkow has recently published another interesting book, Golf's All-Time Firsts, Mosts, Leasts, and a Few Intriguing Nevers. It is a fun read, packed with facts and stats and trivia, too, with a lot of golf history woven throughout and plenty of "most asked but never answered" questions about golf.
When it comes to U.S. Open Championships at the Olympic Club there have been a few. Why did you choose to focus on the 1955 championship (Fleck's win over Hogan) as opposed to the others (1966, 1987 or 1998)?
Because it was so great an upset, not only one of the most remarkable in the history of golf but in all sports.
Did Jack Fleck really out play Hogan? Or was he just lucky?
No, he out played him.  Fleck out-hit him off the tee, hit some very fine iron shots and executed some excellent trouble shots. He had a plugged lie in a bunker and got up-and-down with a superior sand shot.
Through your work as journalist, you knew both Fleck and Hogan. What trait/s did you most admire in each player, and why?
I knew Hogan better than Fleck, and found him to be someone who was not going to divulge anything about his personal life or his golf technique. He could be somewhat devious, and as I point out in the book. At the same time, he was truly a great golfer with a tremendous work ethic and golf intelligence. Fleck was very single-minded about his golf. He was actually a better player than he thought he was.
What will surprise readers the most when they read The Upset?
My take on Hogan will be different than most people have had to date. I like to think it's a deeper and more straightforward, unblinking look at the man's character as I was able to define it from my interviews with him and with others about him.
The biggest surprise will be Fleck's practice of Hatha Yoga, a form of Buddhism, that was in very large part how he was able to be so cool under the pressure of going head-to-head with one of the greatest Open players in the game's history and also a man with a very intimidating manner.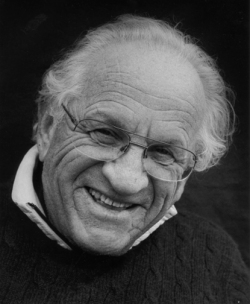 What was the most challenging chapter for you to pen?
I didn't find any chapter especially challenging. I had a lot of facts about the play of both Fleck and Hogan during the playoff, and had a reasonable insight on how they went about their life on and off the course.
They say golf is a mind game. What do you surmise was going on in the minds of Hogan and Fleck during those last holes?
Hogan was far more anxious to win than it appeared; he really wanted to set the record with a fifth US Open title. As a result he over-extended his play on the final hole of the playoff, and it cost him any chance of either tying or winning the championship. Because Fleck was so within himself mentally, the result of his yoga exercises and the mental calm that came with it, he simply played by instinct and did not feel pressed to perform.
Crystal ball question: If you were to player a round of golf with Fleck, and another round of golf with Hogan, how would the experiences differ?
Hogan would be more critical of mistakes I might make, or, if he thought I had no ability he would simply ignore me and take little notice of my play. Fleck would be more outgoing and companionable.