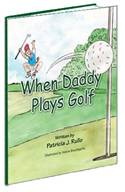 Named the best child's golf souvenir
Most men golfers, whether traveling out of town on business or golfing at their local course, look to bring a small gift back home to their children. While pro shops and golf stores are stocked with an excellent selection of clubs, balls, souvenir tee shirts, hats, mugs, key chains and other logo kitsch's – research proves that these items are not as greatly valued by young children as are books. When Daddy Plays Golf satisfies that missing gift and souvenir option. Lightweight and inexpensive, this colorful and thoughtful book can easily be stashed in a suitcase, briefcase or carry-bag.
Beautifully illustrated by Valerie Bouthyette, this 32 page book not only gives children a peek into the game of golf, but more importantly helps them to understand that even though daddy is a grownup, he still likes to play outside. The book shows daddy receiving help with his swing and helping others in return. It illustrates daddy having fun riding in the golf cart, enjoying the fresh air, munching tasty snacks and persevering even when his golf ball gets lost. The book concludes with daddy stopping at the pro shop with the intent to buy more golf balls, but also leaves with a gift for the child he is missing.
Upon having this book read aloud, children come away with an appreciation for the similarities between themselves and their parent and aids in the understanding of why daddy likes to play golf. Now all dads can delight their children with a remembrance that says "Even though I am playing golf, I still think about you."
Patricia J. Rullo authored and published the book through her company, Millennium Star Publishing; a corporation that helps business professionals create the ultimate lead generation tool in the form of well written articles and books. Other published books to her name include, Worksite Marketing – A Promise to Deliver and Succeed With Style – Make More Sales Faster. Her newest book, When Daddy Plays Golf can be purchased through the publishing company, www.millenniumstarpublishing.com or www.whendaddyplaysgolf.com. Bulk orders at discounted prices are also available as well as books with custom covers.
The book trailer can be found at: http://www.youtube.com/watch?v=46-oBOzscqA
Book Statistics
Title: When Daddy Plays Golf
Publisher: Millennium Star Publishing, LLC
ISBN: ISBN 978-0-9799807-7-0
Category: Children's Gift Book
Length: 32 pages
Binding: 8"x8" paperback
(I-Newswire) April 14, 2010 – Patricia J. Rullo
Millennium Star Publishing
440-840-5989
pat@millenniumstarpublishing.com
www.millenniumstarpublishing.com