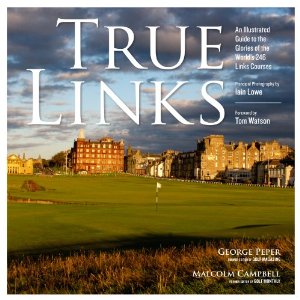 Today's eco-friendly times are creating a bit of a revival for links-style courses.  Campbell and Peper (former Golf Magazine editor) take us on a tour of the world's best 246 links accompanied by images by the esteemed golf photographer Iain Lowe.
"The two of them—the American who has played everywhere and the Scot who was weaned on links golf—conduct this grand guided tour. So pull up a hassock and hop aboard! It's one thing that George Peper and Malcolm Campbell command the world of links golf, from ancient St Andrews to the newly minted Cabot Links. But they also write about their specialty with authority, insight, and passion. And when they say a course is a links, you can stake your favorite hybrid on it."
– James W. Finegan, author of Where Golf Is Great
Click here for more information.