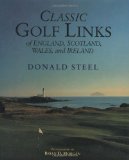 The Ryder Cup is being played this year at the Celtic Manon Resort in Newport Wales, October 1-3.  If you are planning a visit—and even if you are not—here's a look at 75 of the worlds most enchanting seaside links courses.
Beautifully photographed by Brian Morgan, author Donald Steel takes readers on a tour through the use of scorecards and maps and provides helpful hints for most holes.  It tells the history of the courses it covers and provides information on the designers who built them and the pros who have set their records.
This guide is an essential reference tool for the traveling golfer. 
Foreward by Peter Thompson and Preface by Hitoshi Matsuura, chairman of the Nitto Kogyo Group.