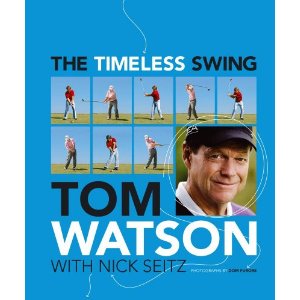 Instruction from a modern day master of the game. Watson's new book and multimedia materials draw on his extensive experience to deliver comprehensive lessons. The key elements of the game like grip and swing are covered as are advanced shotmaking techniques, drills and exercises.
Praise for The Timeless Swing:
"Tom Watson has a very basic golf swing, nothing fancy or complicated, so his instruction and observations on these pages will be easy to absorb and adapt to the talents of all players. He is a strong player, thanks to his outstanding golf swing."
—Arnold Palmer
"The influence of Byron Nelson and other great mentors helped Tom Watson develop a swing that has won dozens of times. That adds up to a book that will help you if you help yourself by reading it and practicing what it teaches."
—Phil Mickelson
"Tom's swing through the years has looked the same but has changed for the better. He still makes a wonderful full turn. What he did in the 2009 Open Championship was truly unbelievable. Tom is one of the game's great champions and a super guy."
—Butch Harmon
The Kindle edition includes audio and video elements such as Watson teaching key lessons.