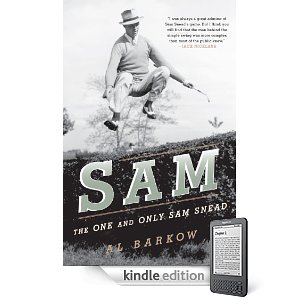 Barkow's Sam: The One and Only SamSnead was released as a Kindle edition in November and thanks to all those new Kindle owners its now one of the top sellers.  It also helps that it has been highly rated (average of 4.5 stars).
Considered the definitive biography of one of the greatest golfers of all time award-winning golf writer Barko delivers. The book covers Snead's journey to achieve a record 82 PGA Tour wins and then takes the reader into the man behind the golfer to understand his fears, his secrets, his dark side.
Al Barkow is a recipient of the 2005 PGA Lifetime Achievement Award in Journalism and the author or coauthor of numerous golf books.
Click here for more information.