This year's Ryder Cup was one for the ages and you can still get a copy of the official guide.  (This is the pre-event program.)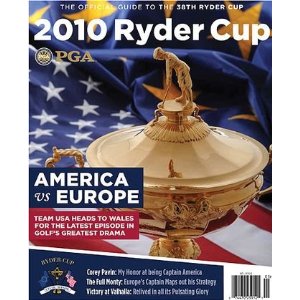 Interviews with Captains Corey Pavin and Colin Montgomerie, profiles of every player, interviews with Mahan, Masters Winner Mickelson, US Open Champion McDowell, all the stats and history you could want including interviews with greats from previous Ryder Cup contests: Nicklaus, Palmer, Jacklin, Top US writers, and more.  Full Course Guide, 196 pages, fantastic Ryder Cup Photograghy, 2008 Victory at Valhalla relived.  Buy it now.
Click the book cover for more information. Or would you rather browse our store?
Click the button to see the full collection of books.