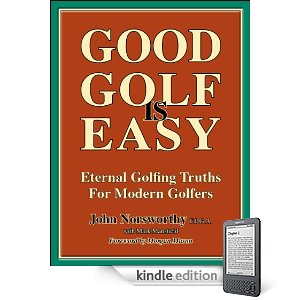 Currently ranked #7 on the best sellers list in golf, this ebook is also a bargain at $.99. (If you don't have a Kindle you can still read it on one of these devices with free reader software.)
Beginning at the age of six at a local course in a small English town, John Norsworthy has more than fifty years experience as a golf teaching professional.  He played in the in The Open Championship at St. Andrews in 1960 and has taught in such diverse places as Nigeria (founded the Nigerian PGA), French Riviera, Wales (head pro at Radyr Golf Club and captain of the South Wales PGA) and Belgium.
While in Belgium (head pro at the Royal Waterloo golf club) he gave lessons to King Léopold and co-founded the Belgian PGA.
It probably knows a few things about teaching golf.
Click here for more information.