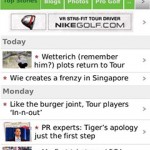 Golfweek magazine – the publication preferred by serious golfers – today announced the release of its first mobile application, which delivers breaking golf news, up-to-the-minute rankings, complete tour coverage and exclusive Golfweek content directly to users' smartphone devices. The user-friendly Golfweek application will also boast an optimized reading experience as well as cross-device compatibility across all mobile browsers and device types, including iPhone, BlackBerry, Windows Mobile and Android smartphones.
Immediately available for free download at www.Golfweek.com/Mobile, through any major smartphone storefront or by texting "golfweek" to 222377, the application will allow viewers to instantly access Golfweek's broad spectrum of interactive resources and features, such as:
 Automatic real-time updates
 Up-to-the-minute headlines, reports and staff blogs
 Enhanced rich media
 Intuitive, easy-to-use navigation
 Customizable favorites
 Advanced distribution options and archival capabilities
 Image, text and click-to-call ad functionality
"The launch of Golfweek's mobile app significantly extends our brand's reach, and we pride ourselves on being ahead of today's cutting-edge technology," said Clayton Morris, president/publisher of Golfweek. "By embracing all aspects of technology, we have worked to create a multiplatform application that reaches more than just the standard smartphone."
In addition to providing free access to breaking golf news and stories, the application will also allow users to easily share content via social media outlets, as well as automatically download full text articles for immediate offline reading without a wireless connection.
"This latest venture is only one step in our overall strategy for new and emerging media," added Morris. "At Golfweek, we're constantly exploring innovative opportunities that will allow us to continue to enhance our content, engage consumers and further develop our robust suite of dynamic multimedia platforms."
To learn more about Golfweek and its extensive transmedia offerings, visit www.Golfweek.com.
About Golfweek
Founded in 1975, Golfweek is the most authentic, authoritative and independent name in golf. Reaching more than 1.3 million readers each week, the magazine delivers the most complete news and information about the game, its players and the golf lifestyle – all to golf's most important audience. The Golfweek brand also extends beyond the print publication to include Golfweek Custom Media, GolfweekHomes.com and Golfweek.com, which features golf's first online television network, Golfweek OnDemand. Golfweek is part of Turnstile Publishing Company, one of the nation's leading media brands specializing in high-end publications for active and affluent audiences. Founded in 1990 and headquartered in Orlando, Fla., Turnstile Publishing Company is also the parent corporation of Community Media Holdings and the TurfNet Media Network, as well as such publications as Art Calendar, The Seminole Voice and The Winter Park/Maitland Observer.