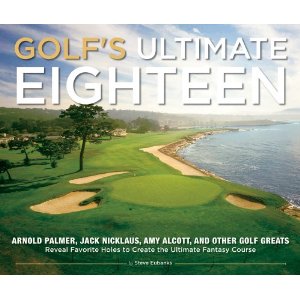 Released in September 2010, this is what you get when you have 18 top golf professionals choose their favorite golf holes to compile "golf's ultimate 18". It's a fantasy golf course assembled by modern day legends, all illustrated with stunning color photographs and a history only they can tell.
Golf's Ultimate Eighteen accomplishes the difficult task of combining interesting stories, useful information, and top-quality photography to create a treat for both the mind and the eyes. Perhaps this is a book best kept for those moments when one wonders why one bothers to play golf. Sometimes it's refreshing to put aside the instructional books and just enjoy the beauty and lore of a great game. –Jeff Friend, ForeWord Book Reviews
Golf's Ultimate Eighteen offers a collection of 18 golf icons discussing the most unforgettable holes in the world. Among those participating were Jack Nicklaus, Arnold Palmer, Ernie Els, Hale Irwin and Amy Alcott. The book includes some beautiful photography and exhibits Steve Eubanks' ability to tell a story. –Stan Awtrey, Atlanta Journal Constitution
What Eubanks has done is assemble a fantasy golf course made up of existing memorable holes. Each hole is featured here with dramatic photography, a layout with a yardage scale, and the commentary of several golfers.  A good choice. –Steven Silkunas, Library Journal
Click the book cover for more information. Or would you rather browse our store?
Click the button to see the full collection of books.