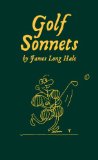 In his new book, Golf Sonnets, James Long Hale shares 18 amusing illustrated Shakespearean sonnets about golf. The gold embossed hardbound cover is designed to fit in a golf bag and entertain you from the first to the eighteenth hole. Golf Sonnets is the ONLY collection of sonnets about golf on the market and is the perfect gift for the literate golfer who 'has everything.'
Golf Sonnets is utterly unique and hilarious…sure to be an instant classic of modern American Golf Literature. Of course, golf and sonnets are historical and geographical siblings. William Shakespeare remains the best-selling poet of all time and golf, incredibly has captured the imagination of nearly 30 million Americans. Golf is a game of rhythm and mind, as is a sonnet. It is only natural that these two elements which have endured for centuries since the Elizabethan era now unite to wittily entertain the modern day golf enthusiast.
"Golf is a funny game, full of irony and contradiction," says Hale. "It was started by shepherds, the lowest of the low in society, and yet it has risen to a game for the elite. Sonnets also were written for the masses, not the elites, and yet have come to be associated with elite society."
A few of the 18 verses in Golf Sonnets include:
· The Game…"if you're thinking that Golf is less than lame, you need to get a life, not just a Game."
· The Equipment…"so take a lesson if your game is ill – equipment is no substitute for skill."
· The Nineteenth Hole…"where any reason to procrastinate is welcomed as a virtue, not a vice."
· The Golf Widow…"but here's the poor Golf Widow's sorrow: she'll have to see her man again tomorrow."
"A good golf shot and a good sonnet produce a similar joy of soul that bears repeating. We want more. We want to experience that feeling again," explains Hale.
James Long Hale's affection for Golf and Light Verse began when his Dad introduced him at a young age to the Game and the comedic poetry stylings of Stanley Holloway. He is a graduate of PhilipsExeterAcademy, DartmouthCollege (where he studied poetry under Richard Eberhart), and SyracuseUniversityCollege of Law.
Hale's essays and poems have appeared in various professional and literary journals and anthologies. In addition to Golf, his sporting interests include hunting, fishing, skiing and scuba diving. His charitable interests include: regional theater, education, disaster relief, environment and poverty.
Hale is married with three children and divides his time between upstate New York, the Adirondack Mountains and Puerto Vallarta, Mexico. His travels have taken him to every continent except Antarctica…are there golf courses there?