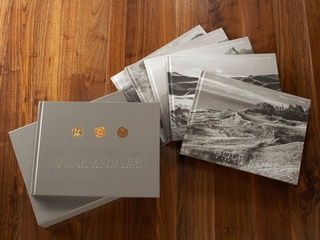 If you couldn't get enough of this year's PGA Championship you might want to check out this handsome book featuring vintage maps, beautiful original photography, and hours of research and interviews to capture the true flavor of the game, the courses, the architect Pete Dye and the Kohler company.
The book series features a 148-page story book and five picture books featuring the distinct personalities of each of Kohler's golf courses – River, Meadow Valleys, Straits, Irish and The Duke's.
You can visit www.destinationkohler.com or click here to go direct to the order page.
Also available in soft cover edition.