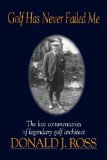 East Lake Golf Club in Atlanta Georgia—home course for the PGA Tour Championship—may have been originally built (started actually) in 1906 but the officially recognized date is 1913.  Why?  That is the year legendary golf course designer Donald Ross completely redesigned the course. 
Ross's commentaries on the rationale behind his architecture, penned before World War I but only recently rediscovered, are filled with wisdom:
"Holes should be trapped so that par golf depends upon skill rather than upon strength."
"Make all the short holes difficult."
"Hazards are placed so as to force a (golfer) to use judgment and to exercise mental control in making the correct shot."
Golf Has Never Failed Me is an insightful look at the game by one of its most famous and beloved people.