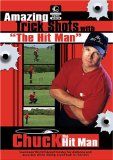 Unique tricks, amazing stunts and entertainment for whole-family entertainment.
Audiences of all ages will be dazzled and entertained at the phenomenal hand-eye coordination and motor skill ability of Chuck "The Hit Man" Hiter as he performs the most amazing stunts and unique tricks ever seen done with a golf ball.
Chuck Hiter has been featured in nearly every golf publication, major newspaper and television sports shows including CBS Sports, ABC Sports, FOX Sports, The Golf Channel and ESPN.  The Hit Man is featured on The Golf Channel's, Profiles of a Pro, and is the only golf trick shot artist to ever appear on ESPN's, Top Ten Plays of the Day 3 times in one day.  Hiter holds the Guinness World Record for distance and accuracy while hitting a golf ball out of mid-air.
Click here to buy the DVD.