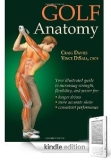 By neglecting their fitness, most golfers increase their risk of injury and fail to play to their potential, according the new book Golf Anatomy by Dr. Craig Davies, Director of Fitness and Nutrition at the Core Golf Junior Academy.
"Faster and more lasting gains in distance, accuracy, and consistency can be achieved by improving physical fitness to allow the body to perform the necessary movements for an effective swing with efficiency," says Dr. Davies, who also trains PGA Tour players Justin Rose, Sean O'Hair, Hunter Mahan, John Rollins and Y.E. Yang.
Improved fitness also reduces the risk of spine injury due to intense pressure-up to eight times a golfer's weight–on the back during the swing.
"Inability to withstand such forces will lead to dangerous compensations, poor swing technique, and injury," says the native of Niagara Falls, Ontario. "Fitness helps prevent injury and promotes optimal performance on the golf course."
Even players who are fitness conscious are likely have an "incomplete knowledge base," and most do not work out with a specific purpose that is directly related to the golf swing.
In Golf Anatomy, published by Human Kinetics, Davies and coauthor Vince DiSaia link fitness and golf through anatomical illustrations of golf-specific exercises. Each chapter progressively develops the key components of a good swing: mobility, stability, balance, body awareness, strength, and power.
The book also includes a chapter on injury prevention for the lower back, elbows, wrists, shoulders, and hips-common problem areas for golfers.
"Once fitness is achieved, lessons on the swing become more efficient, you hit the ball farther, and golf becomes much more fun," says Davies
Buy now in Kindle format.  Also available in a paperback book edition.