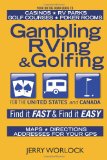 Today is the second day of the annual PGA Fall Expo in Las Vegas so we'd like to highlight a book that combines the themes of gambling and golf.  What better way than a directory of places that offer the RV enthusiast a chance to do both at the same location?
At 460 pages this tome is the perfect directory to take with you on the road.  Search for RV parks and campgrounds near casinos and golf courses.  You get maps, addresses, phone numbers and facility information along with website addresses you can visit for more information. 
Published in 2010 and it covers the United States and Canada.