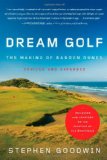 On a wild, windblown bluff high above the Pacific sits one of America's premier golfing destinations, Bandon Dunes. Golf enthusiast Mike Keiser had the dream of building this British-style "links" course on a stretch of Oregon's rugged coast, and Dream Golf is the first all-inclusive account of how he turned his passion into a reality.
Now, in this updated and expanded edition, golf writer Stephen Goodwin revisits Bandon Dunes and introduces readers to Keiser's latest effort there, a new course named Old Macdonald that will present golfers with a more rugged, untamed version of the game. This "new" approach to the sport is, in fact, a return to the game's origins, with a very deep bow to Charles Blair Macdonald (1856 –1939), the father of American golf course architecture and one of the founders of the U.S. Golf Association. This highly anticipated fourth course, designed by renowned golf course architect Tom Doak along with Jim Urbina — as detailed in Dream Golf — will further enhance Bandon Dunes' reputation as a place where golf really does seem to capture the ancient magic of the game. 
Mike Keiser, entrepreneur, amateur golf enthusiast, and founder of the successful company Recycled Paper Greetings, turned his unlikely dream of creating a British-style links course on Oregon's rugged coast into one of America's most extraordinary golf destinations. Working against the odds, and making decisions that seemed counterintuitive to most outsiders, Keiser surprised the skeptics and charmed the critics with the result of his efforts. When it opened in 1999, Bandon Dunes was instantly acclaimed one of the best courses in the world.
This book, written with Keiser's full cooperation, is the first all-inclusive account of how he translated his passion into a reality. It reveals the difficulties he had to overcome, the personalities he encountered—most notably two of golf architecture's most controversial figures, Scotsman David Kidd and American Tom Doak—and the goal he has achieved in creating a true golfing utopia in an astonishingly short period of time on a wild, windblown bluff high above the Pacific.  (Text refers to hardcover edition.)
About the Author
Stephen Goodwin is the author of four other books, including the critically acclaimed Breaking Her Fall. He lives in Virginia and teaches at George Mason University.