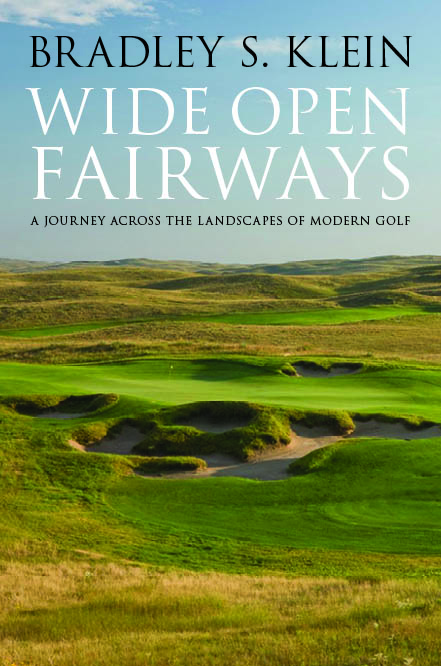 In golf the playing field is also landscape, where nature and the shaping of it conspire to test athletic prowess. Bradley S. Klein, a leading expert on golf course design and economics, finds much to contemplate, and much more to report, in the way these wide-open spaces function as landscapes that inspire us, stimulate our senses, and reveal the special nature of particular places.
A mediation on what makes golf course compelling landscapes, there is also a personal memoir that follows Klein's unique journey across the golfing terrain, from the Bronx and Long Island suburbia to the American prairie and thePacific Northwest. Whether discussing Robert Moses and Donald Trump and the making ofNew York City, or the role of golf in the development of the atomic bomb, or the relevance of Willa Cather to how the game has taken hold in Nebraska Sandhills, Klein is always looking for the freedom and the meaning of golf's wide-open spaces. As he searches, he offers a deeply informed and absorbing view of golf courses as cultural markers, linking the game to larger issues of land use, ecology, design, and imagination.
An Interview with Dr. Bradley S. Klein
1. What motivated you to write "Wide Open Fairways: A Journey Across the Landscapes of Modern Golf" and why now?
I've been writing short essays and columns for 25 years and I wanted to extend them into longer, more analytical studies of golf – or more particularly, about the landscapes that I think are the most compelling in all of sorts – golf courses.
2. What will readers discover in "Wide Open Fairways" that is absent from most other contemporary golf books?
I'm a writer by basic disposition, and I think there's a great tradition of golf writing. In the face of all of these coffee-table pictorials about great golf courses there are precious few detailed accounts of what makes these sports fields so special.
The notion that "a picture is worth a thousand words" is only true if you're reading people who can't properly express the feelings and power of what these places suggest to you. I'm someone who works off of feelings and sensibilities. My writing is non-technical; I hardly ever take notes about golf courses and have no interest in describing how you play it – or worse yet, how someone else plays it. So I wanted to convey something that I think is missing in all of the literature about golf – the place of these as cultural landmarks, rooted in specific places and ways of life. So I invoke history, fiction, imagination and politics. I spend so much time on the road – 150 days a year, and I've been doing it for 20 years – that I thought I had something different to offer golfers.
Besides that, I think that golf can be made interesting to non-golfers. In fact, my imagined audience as I write is always the non-golfer, someone who reads and thinks creatively but would normally think golf boring and a waste of time. If I can capture them and draw them in, then I've done my job. So I had all of these short essays from various publications sitting around and the task was to translate them into a sustained idiom with more depth and context than my magazine space allows me. So I situate these accounts, whether it's the Nebraska Sand Hills and Willa Cather's fictional accounts about the struggles of life on the prairie; or the role of the Los Alamos,New Mexicogolf course in the development of the atomic bomb; or the way flooding affects golf inMinot,North Dakota.
3. This book is more than a chronicling of compelling golf landscapes, it is also a memoir. What prompted you to share your personal journey in this particular piece of work?
The immediate occasion for this book was my father's death in May 2011. I literally started it the day after he died and finished it a year later, on the night before his unveiling – the Jewish ritual of showing the gravestone. The first part of the book is a very personal account of what it was like growing up with a mentally ill dad. He wasn't wacko crazy, just not quite 'there" and unable to focus on our needs as kids growing up. I had a powerful but sad relationship with him, and it took a very long time for him to see that I was there as his son.
Along the way, I found golf as a refuge; thus the attraction of getting out of the house early in the day and exploring the freedom that "wide open space" afforded me. So the book starts off there, in a sad but weirdly comic way. And it ends with a chapter describing how I was able to create my own golf course, so to speak, through a municipal project in the town where we now live inConnecticut, where we got Pete Dye to design a course for $1 that we spent nine years building.
So the book, while personal, also is a public account of how golf can provide a refuge. And in this I doubt I am alone. I'm sure many others have shared in the sense of freedom and joy that golf provides. What I tried to do in this book was explain that sense of freedom – something you can't get from a picture of a beautiful golf course.
4. This certainly isn't the first book that you've written. What other meaningful golf books have you written and/or published?
Well, they were meaningful to me. I'll let others decide if they had any meaning for them. My first collection of short essays, called "Rough Meditations," came out in 1997 and in an expanded edition in 2006. I also spent three years writing a very detailed biography, "Discovering Donald Ross" that won the USGA International Book Award for 2001 and was reissued in an expanded edition in 2011. Along the way I also wrote a club history, "Desert Forest Golf Club: the First 40 Years" (2004), that is actually a history of golf inArizona. And another club history about "Sebonack" (2009), which manages to convey a good bit of the history of golf course design onLong Island. These last two projects involved very close work with a skilled graphics designer, Carol Haralson, who has the considerable virtue of knowing nothing about golf – until now. We seem to work well together and I'm looking forward to working with her again on another project.
About the Author
Bradley S. Klein is architecture editor of Golfweek magazine and runs its national golf course rating system. He is a former PGA Tour caddie and has been inducted into the International Caddie Hall of Fame. He lectures widely to professional trade groups throughout the U.S. and overseas on topics relating to golf design, the golf development industry, and golf course operations and maintenance. Additionally, he makes himself available for speaking engagements and/or book signings at public, private and resort facilities. He can be reached at (860) 508-7696.
Wide Open Fairways: A Journey Across the Landscapes of Modern Golf is available through University of Nebraska Press or at Amazon.com.