Laid Small (left) with co-author Dave Allen
What possessed you to write this book?
Over the years several of my students have encouraged me to share my thoughts on learning and playing the game. Prior to putting my thoughts to pen I took a look at the landscape of golf books on the market and realized there were numerous publications on how to swing the club but a limited amount on actually playing the game.   
It soon became clear to me, if I could write a book that focused on how to play the game in a manner that wasn't too technical, it could help golfers improve and it would align well with my avocation as a golf instructor.    
To this day, I am still marveled by Harvey Penick's Little Red Book, a piece of work which is simply written, yet casts a powerful influence on players and teaching pros throughout the world, including myself  
What is one of the biggest mistakes made by golfers today?
I often observe golfers who don't play the game because they are too busy working their game, trying so hard and often over focusing on the technical aspects of their swing which can quickly lead to a rapid state of frustration.  
As a PGA golf instructor I continue to absorb all I can about the game. I have always enjoyed Harvey Penick's Little Red Book primarily because it's a series of core lessons that are well-and-simply stated. If an author (and golf instructor) can communicate in a style that is easy to understand and apply, then the reader/student will benefit.  
You've worked closely as a coach and instructor with players of all performance levels. What have you learned from TOUR Players? 
When I spend time with TOUR Players, I can't help but observe how simple they are in their approach to playing the game. They swing the club with balance, rhythm and tempo, and are not overcome by mechanical swing thoughts.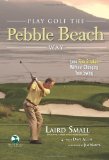 What do you mean when you say…Play Golf the Pebble Beach Way?
I wanted to demonstrate the word play in its truest sense….that is, play, have fun, enjoy the round, the course, time with your friends and above all, avoid being mechanical in your thinking. It was of immense importance to my co-author Dave Allen and myself, that the information we share throughout the book would enhance a golf experience, not just at Pebble Beach Golf Links but on any course a golfer might venture.  
Because of my deep connection to Pebble Beach Golf Links (director of the Pebble Beach Golf Academy) it seemed like the ideal backdrop (outdoor classroom) in which to frame the lessons.  In addition to our easily comprehendible text we were able to secure amazing on-course images which enhance the readers' learning curve and ultimate enjoyment of the book.    
Each hole at Pebble Beach is truly distinct…What lessons can we learn from you, your book and this internationally-ranked course?
As mentioned, the lessons within this book are not just for Pebble Beach Golf Links, they apply to all courses. They are insightful and practical in nature. You'll find everything from how to handle first tee jitters with the late, and great actor Jack Lemon to hints on how golf icon Jack Nicklaus bounces back from a bad shot, and even a peek on how the Golden Bear views course design. There's also Champion TOUR Player Tom Watson's tips on how to find your swing tempo (when you loose it) and golf great Arnold Palmer on driving strategies, plus so much more.  
Who specifically, is the book designed to help…a new player with a higher handicap, or a more experienced player with a lower index?
The book is for everyone…from a high to a low-handicap player. It's also an excellent tool for teaching professionals (providing assist with playing lessons). From chapter to chapter there's plenty of fascinating stories highlighting successful players including Clampett, Kite, Miller, Nicklaus, Palmer, Triplett, Watson, and Woods. The focus is not only on how they play the game but how they bounce back from bad shots and how they view course architecture as it relates fundamentally to their game. For golfers who are eager to reduce strokes off their game all the while enjoying the experience… this book will serve them well both on-and-off the course.  
About Laird Small: Besides an accomplished author, PGA Master Professional Laird Small is the Director of the Pebble Beach Golf Academy. Due to his outstanding ability as a golf instructor the PGA of America named him National Teacher of the Year in 2003.  
Other special distinctions held by Small include "Top 100 Teacher" (Golf Magazine) and "50 Greatest Teachers" (Golf Digest). He is a supporter of Play Golf America, AT&T Pebble Beach Junior Golf Association and the National Council for Better Health Through Golf- Doctor's Orders: Play Golf.