Course architect Forrest Richardson founded Forrest Richardson & Associates in 1988. His work includes golf planning, new courses and historic renovations. He has authored three books on golf course design as well as the dictionary we're discussing today.
 
1. What motivated you to write (and publish) On Course?
I have been collecting golf course words and terms for several years. It began when I wrote Routing the Golf Course in 1999-2000. I planned a glossary and it just got out of hand. Before I knew it I had nearly 1,000 words.
2. You refer to On Course as a dictionary, isn't it more than that…isn't it a guide too?
I suppose. It gets into the mind of the golf course architect because many of the entries are local and personal terms endeared by designers.
3. Was this book designed for industry professionals, golfer fanatics, or simply those with an appreciation for golf course architecture?
I think it appeals to people who love golf and golf courses. I am surprised when some friends I play golf started using some of the words…Which meant they actually read it!
4. How many words/terms are listed within this handy pocketbook?
I am not sure the exact number of entries, but thanks to Microsoft Word I can report that the complete text is more than 60,000 words. I think there are nearly 3,000 entries.
5. When it comes to golf terms, which ones are most often misused or misunderstood?
Links comes to mind. We know that a true links cannot be found in the Sandhills of Nebraska, yet we hear it all the time. "Links-ish" or "Links-like" yes, but not a links. You also hear a lot of terms that have come to mean something just because they get used over and over.
I am not sure there is ever a right or wrong 100% of the time because we are dealing with a game and people simply have fun expanding the vocabulary and use of words.
I suppose one of the widest definitions is "Strategic Design" to which I have always held a skeptical viewpoint. I have never bought into the notion that Strategic Design was somehow a product of the 1950s or 60s, or that Robert Trent Jones, Sr. invented this ideal. Mr. Jones certainly brought golf architecture to the forefront of golf and golf development, and he gave us a new-found cause to support heroic and risk-reward holes. But, to say he invented the idea that a golf hole is "strategic" is to say that MacKenzie, Ross and even Old Tom were in the dark and had no clue about strategy.
My take is that strategy is the heart and soul of golf holes, and it is evident it was present on those very first, rudimentary designs even before the 1600s.
Strategic design is why golf became popular. People longed for a game where it was a treasure hunt to get from A to B. Golf provided that fun and enjoyment, and it was all due to strategy and how a given hole presented a puzzle to be solved.
We should never be fooled to think that the brilliant professors and minds of St. Andrews were not constantly devising more interesting ways to set up Pilmoore Links [the Old Course] for the enjoyment and "frustration" of the local golfers.
6. You are a member of the American Society of Golf Course Architects. What are your colleagues saying about this detailed dictionary you've developed?
Many of my friends in the Society contributed, so they have no choice but to love it.
7. Any plans for another book? If so, might it relate to the game of golf and/or course architecture?
I believe at last count there are three books rattling around in my head. One is likely to see the light of day in another few years, but I have no deadlines. A deadline to a writer is like a 50 yard wedge over water to a short cup placement.
I have always wanted to write about the psychology of the game as it relates to courses. There is a large and uncharted series of topics out there that relate to the built and natural environment. Our DNA has some built-in preconceptions about land, space and journey. Golf courses and golf design either play to that, or play havoc with this human condition.
If the golfer can understand more about why they feel a certain way on a certain type of hole then it can lead to a better round and a better overall experience. It is just as much a part of the puzzle as selecting a club and executing a good shot, yet we rarely think about the psychological factor.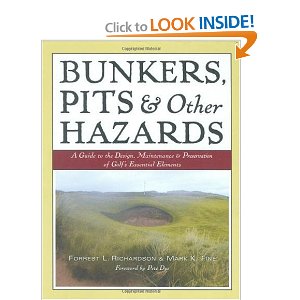 Richardson is the founder of Forrest Richardson & Associates, a Phoenix Arizona-based golf course design company, incorporated as Golf Group Ltd.  He is a member of the American Society of Golf Course Architects (ASGCA), the Shivas Irons Society and the prestigious Keepers of the Green of St. Andrews, Scotland. He is frequently asked to share his knowledge at golf conferences and symposiums and is a contributor to various golf-related publications.
Forrest is the author of four books on golf architecture: Routing the Golf Course, a book about the routing and planning of golf courses, Bunkers, Pits & Other Hazards, a title covering the nuances of hazards—golf's most essential elements, Of Course, a collection of the firm's designs and stories, and On Course, a Dictionary of Golf Course terms.
Richardson is a member of the American Society of Golf Course Architects and the prestigious Keepers of the Green of St. Andrews, Scotland.