Fourth-generation Californian Doug Dawson shares his 27 month journey and the experiences of playing and rating 220 Northern California golf courses.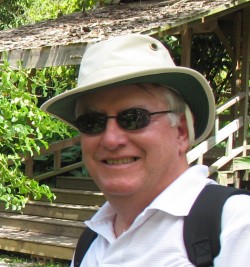 1.  What motivated you to write this book? 
I was in sales and management for years, and customers often asked for advice on where to play and which were the best courses. I researched the web and bookstores and found very little comprehensive information had been published. What could be more fun than to play all the courses and then write about them?
2.  What separates the "Top 10" courses from others on the list?
The "top ten" have a great blend of design, setting/scenery, and each with their own stellar course conditions. Several of our "top ten" courses have served as venues for some of the finest golf championship in the history of the game (i.e. Pebble Beach Golf Links- a U.S. Open Championship site and AT&T Pebble Beach National Pro-Am,  Spyglass Hill Golf Course and Poppy Hills Golf Course-  AT&T Pebble Beach National Pro-Am, Pasatiempo Golf Club- The Western Intercollegiate, Sevillano Links- The Northern California Open Championship.
Golf Digest rates Pebble Beach GL as the "most beautiful" golf setting in the U.S., and we agree, evidenced by our #1 choice. Many golfers believe Spyglass Hill (ranked #2) is the best test of golf skill in California, and we won't argue that point. Golf great Ben Hogan once said Pasatiempo's 16th hole (our #3 course) was the "best two-shot hole" he ever played. Finishing off our "top ten" list of best courses is Sevillano Links (in Corning, 60 miles south of Redding) which had the best conditioning of all those I reviewed.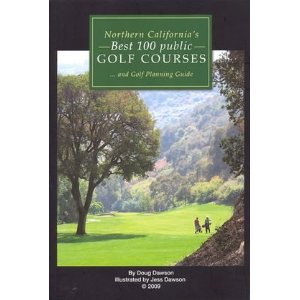 3.  How long did it take to complete all the site visits/play the courses?  
This journey took 15 months, from mid '08 thru the fall of '09, often playing 10 courses between Monday and Friday. I walked about 75% of the 220 courses. I'd phone a week in advance, mention to the pro (or course owner) that I was planning to play the course and would like to set up a post-round interview. Sometimes the course starter would send me out first (at 5:30 am) and I'd be done by 8:00 am.
After each early round and interview, I would complete a 29-point course evaluation. About noon, it was off to the next course and repeat the drill. On those afternoon rounds, I'd often play with locals to gather insight on course history or playing conditions, weather trends, etc. Friday night I would make the trek back to my bay area home, play a Saturday morning round with buddies and spend the next week writing reviews while memories were still fresh.
 
4.  I am sure there were a few interested and unusual discoveries along the way…please share a few?
First, I'll have to admit I really enjoyed driving the remote parts of California, our expansive and varied state. Although a well-traveled 4th generation Californian, I still found lots of beautiful new territory. For example, the Fall River Valley, east of Redding is a particularly spectacular, with gorgeous snowy springtime views of both Mt, Shasta and Mt. Lassen. Death Valley is a pretty special too . . . showing just a bit of variation from the watery wild-rice patties of the northern valleys.
Finding new or tucked away courses others may yet have discovered was also a joy. These include Eagle Ridge in Gilroy, with its monster bunkers and rolling hillside views; the entire northeastern section of Sacramento (including The Ridge, Darkhorse and Apple Mountain), where golf price-wars make play on terrific courses very affordable; Sierra Star, sitting in obscure Mammoth Mountain on the Sierra's east slope; Callippe Preserve in Pleasanton and Ridge Creek in Dinuba (just south of Fresno), two of the best new municipal courses around; and the town of Graeagle, 45 miles north of Lake Tahoe, where mountain golf is wonderful, affordable and where all the local courses rank in the Best 100. 
5.  When it came to all the research and fact-finding, what was the greatest challenge?  
Other than scheduling and holding on to any-and-all energy after packing a bag for two rounds, it was often challenging to get owners and pros alike to open up about the hidden history and what they felt were the better attributes of their course/s. My goal was not to uncover simply routine facts but to learn the nuances which separate one course from another.
One of my favorite interviews was with the manager at Likely Links Golf Course, just south of Alturas near the Nevada/Oregon border. When told that his brand new 755-yard (15th hole) was not the longest in the state, he said, "No problem. Did you see the 150 yards to the fence behind the tee box? We'll just move her back a bit."
 
6.  You describe your book also as a "golf planning guide"….explain why/how it qualifies as a guide.
I wrote the Best 100 for vagabond golfers and adventurers in search of where to play their next round. I wanted readers to have a complete and unbiased source describing: 1) quality, 2) value, 3) weather, 4) winter drainage, 5) terrain, 6) walk-ability and 7) location. Chapter 1 defines the meaning of "quality" while chapters 2 through 4 focus on detailed features of each course. Chapter 5 describes travel planning, conveniently organizing courses by region, so a golfer can maximize their trip and be aware of which destinations offer the greatest dollar value. Chapter 6 was especially fun for me, an engineer by education, but also a golf nerd. I introduce a new way to rank course difficulty, and also thought readers might be interested knowing which holes I considered the toughest of the Best 100. You will also find a glossary within, and for the trivia buffs, I provide enough interesting facts to win a few bets.
7. This book was a true collaboration between you and your spouse Jessa, an accomplished artist and illustrator. How was it teaming up on the project?
Jess was a real trooper. Originally, I had the idea of her riding in the cart, playing the courses, and making quick sketches while we rode from hole to hole. Well, after waiting in a picturesque spot on Greenhorn Creek for about 10 minutes, and observing the pressure to draw quickly, my expectation seemed a little absurd. Also, her schedule was unexpectedly busy at home. So instead, she coached me on how to capture on-course images with my camera.  I took plenty of photos, and she chose the best to use as inspiration for the illustrations. Although she really enjoyed doing the artwork, at one point she mentioned hoping never to draw another tree! (I think she's changed her mind after a year-and-a-half hiatus.)
8. Any other books on the horizon?
First, I want this one to sell out, before heading to the North or Southwest. However, I have completed 40,000 words of a fictionalized memoir based on the adventures related to writing about the Best 100. While I was brave enough to think I could self-publish my first book, the next one will follow a publishing path which is much more traditional.
 
9. Share a little bit about your passion for the game of golf?
I started playing golf at age ten, hating every minute of it because my friends weren't playing golf at the time and were involved in other activities. I caddied, mostly for my parents. That was work….a 13-year-old carrying double at Stanford GC or Menlo Country Club. 
Somewhere around age 12, I persevered long enough to learn how to hit the ball in the air, a decent distance, and could see hope for the game. A couple of years later an event sealed the deal. Our family joined another couple for a week at Edgewood Golf Resort at Lake Tahoe. I met their son Tucker and we played 36 holes a day, usually by ourselves. Nothing like a buddy, a golf course with few others on it, great resort food, and a friend with the same level of growing ability to start true interest in the sport.
By the end of high-school, I organized Menlo-Atherton High School's first team entry into golf competition, then played as a freshman in college, and later on the U.S. Coast Guard's team. In those days, one of my vivid memories was as a lowly LTJG, playing regularly with the base commander at Quantico's Golf Course. Even the Commandant of the Marine Corps and his dogs would occasionally join for 9 in the late afternoon.
My Marine buddies were aghast that Jess and I had the courage to play in such an august group. My feeling was that they were just golfers, not gods, and besides, they had no authority over a Coast Guardsman.
Later in life, I found golf to be a great social communication tool (in business), and an ideal platform for developing camaraderie amongst colleagues.  Although deals were rarely cut while playing on the course, the afterglow from the rounds cemented many a relationship and many a sale, too. 
Now, having retired from business, I find the sport a perfect physical outlet, so long as I walk the course and pack my bag. Nothing like burning a thousand calories per round and keeping the body in shape… while Jess and I meet new folks and have fun with old friends, too. My dad played golf up until the time of his passing at age 95 . . . a very noble and lofty goal to duplicate.
Northern California's Best 100 Public Golf Courses is author Doug Dawson's first book. He saw a need for up-to-date information about NorCal golf because 40 percent of the 18-hole public courses are either new or have had major renovations since in 2002. The only comprehensive similar book he could find written on the same subject was California Golf *, published in January 2002.
For more information please visit his website at Best100Golf.com.