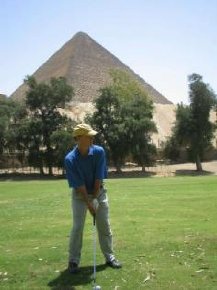 David Wood did what many of us think about, but rarely do: quit life as we know it to pursue a dream. In his case it was to travel the world playing golf. It's a great yarn and an education as well.
David's book has been recently re-released in paperback and a Kindle version is forthcoming. If you love travel and golf, you'll want to listen to David.
1. What's the most dangerous animal you encountered?
 
I encountered two giant kangaroos on a tee-box at the Golf Club at Kennedy near Perth, Australia right on the Indian Ocean.  I walked about a hedge and they suddenly appeared. They were huge and were staring at me him they wanted to beat me up. These two specimens looked like a couple of longshoremen who had been weaned on doughnuts and beer since they left the pouch. I was surprised they didn't have tattoos. Luckily, I escaped unharmed. Also, I saw a lion at a game reserve in Zimbabwe (after playing golf near Victoria Falls ) around 100 yards away that would have made quick work of me, but a giraffe had died and he was having his dinner.
2. As Americans begin traveling again, what are the top two destinations they should consider?
Argentina, and South American in general, is vastly underrated. The cultures are sophisticated and diverse. The people are most always polite. The natural wonders are off the charts good. Plus, the exchanges rates are probably the best in the world for Americans. And, New Zealand is the promised land. It might well be the single most beautiful country on Earth. It's easy to get around (I recommend a campervan), the natives are friendly also, the climate is balmy and the seascapes are mesmerizing. Tough to beat New Zealand. I could live there easily.
3. If you were taking your trip today, how would you change it?
I wouldn't change much except perhaps taking along better medicine for gastrological maladies. I got so desperately sick in India and Egypt, I almost had to cancel the rest of my journey both times. By the way, if you want to lose weight go to India, eat from one of the many street vendors and watch those extra pounds melt away.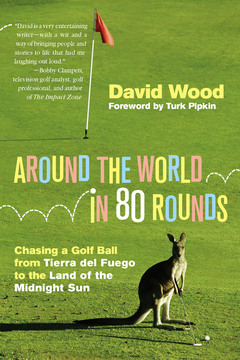 4. We know Rio won the 2016 Olympic Games and golf will be on the program, what should we expect from Brazilian courses, and fans? A follow up/second question is: What's going on with golf in South America?
Golf is still a rich person's sport in South America, unfortunately. There are a few public courses popping up. One is the middle of Buenos Aires in the Palermo section that is like playing in Central Park. There are fashionable apartment buildings rising up on the perimeter of the course. It's grand to play golf in the middle of a teeming locale like Buenos Aires. The green fee was $8. What's also wonderful about South American golf is that they love the ritual of the game like "having the honor" on the tee if they had the best score on the previous hole. They always made a big deal out playing the visiting gringo – which I loved how proud they were and how much they enjoyed playing first.  I played golf in the Atacama Desert at the driest course on Earth – no grass and no rain in recorded history. You play on the dirt, yet the locals are as formal as if they are playing The Masters. Overall, South Americans love sport and will be excellent hosts for the Olympics. 
 
5. Is there a piece of golf equipment that we take for granted that is fundamentally different in another country?
Not so much equipment per se, but how expensive clubs and balls are, for example. Much more expensive than in the U.S. – probably double the price at least. Traveling around the world on a budget, I'd just buy used golf balls from the kids that pick them up out of the woods from bad shots.  I probably bought back my own golf balls several times. Also, most of the world uses caddies and that was great to learn more about how people live. You get to have a four hour conversation if they speak a bit of English. Plus, they don't make much money and when you tip them well they are very appreciative. What's not a lot of money to us, is huge to them.  I loved tipping and then seeing the big smile on their faces.
 
6. Similarly, is there a golf tradition or protocol that we follow here that is fundamentally different in another country?
My favorite is in South America. You don't yell "Fore!" you yell "Mono" because you want the mono (monkey) to throw the ball back into the fairways. Also, enjoyed the female caddies in Asia as they only speak "Caddie English" – they know all the golf terms (yardages, par, birdies, bogey, "good shot," "nice putt")  but barely another word of English. In Thailand,  they revere the King. I was using a Thai coin for a ball mark with the King's picture on one side of the coin. I marked my ball on a green with the King's face on the ground and almost gave my female caddie a heart attack. Only mark the ball with the King's head facing skyward in Thailand. Lesson learned. 
 
About David Wood
As a former stand-up comedian, I try to use humor in my writing. For years I read and reread the travel books of Paul Theroux and yearned to take adventurous trips as he seemed to continually be doing. Around the World in 80 Rounds is the result of finally acting on that dream of traveling the world and then writing a book on the adventure.