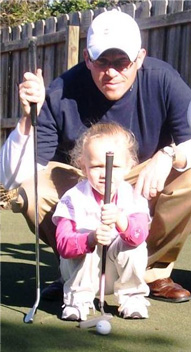 Do you have a youngster at home you'd like to introduce to golf? Or are you interested in what we can do to grow the game of golf?
Brendon Elliott is the PGA Head Golf Professional at Winter Park Country Club (Winter Park, FL). He is also co-founder and president of Little Linksters, LLC, and a children's golf consultant for the Littlest Golfer, Inc.
In this interview Brendon talks about kids, golf and his mission to introduce golf to the youngest of players.
What inspired you to write this book?
I must admit, it was more than being a golf pro that inspired me to create this book….it was also about being a dad. When our daughter was 3, my wife and I discovered a void when it came to player development programs and golf-related learning tools for young children. It was evident that there was nothing strongly identifiable to youngsters when it came to golf….nothing that could catch their eye or hold their interest. We also wanted a tool that would allow a child to express their creativity through art while learning the very basics about the sport.
When we met with the folks at The Brandinghouse in Asheville, NC, who helped breathe life into our vision for the Little Linksters Gang of Floppy, Birdie and Bogey, we knew we had created something that was of interest, with a theme that spoke to very young golfers. Collaborating with our talented illustrator Toby Maurer with The Brandinghouse, added even more life and zest to our book.
Who is the book targeted to, and why?
Our target age group is 3-8 year olds for both our coloring book and Little Linksters instructional program. This is the age group we feel the golf industry needs to pay a bit more attention to when addressing player development programs for beginning golfers. Beyond the kids, we are also targeting parents, grandparents, and even golf professionals…those in search of tools that will assist when working with Pee-Wee golfers at home, at the range, or on the course.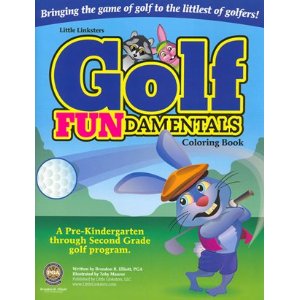 While you've taught students of all ages and playing ability levels, why the focus on the Pee-Wee golfer?
We recognize there is a void and we are here to help fill the gap. Kids ages 3-8 (especially those in the 3-5 year range) are learning all types of activities and skills during their formative years. They learn dance, martial arts, soccer, baseball, swimming, plus music, foreign languages, and computer skills too, yet very few are introduced to the basic fundamentals of golf…a game that teaches so much more than hitting a little white ball.
As the industry struggles to retain players, as a PGA golf professional, I have a duty to help nurture the future of the game. We, at Little Linksters, LLC, are committed to Pee-Wee players and believe our coloring book is the first tool which assists in creating excitement about the sport for young children. I've discovered, teaching kids in this age group can be very rewarding and actually it's quite fun, too.
What advice do you have for parents or grandparents who are interested in introducing their youngsters to the game? 
For starters, find a PGA or LPGA Professional in your area that works with children. Second, always make the game FUN, and never force them into the sport. Third, purchase clubs that are "fit for kids" like those available through US Kids Golf. Avoid cutting clubs down for youngsters, as this type of modified equipment can be detrimental in the development of a child's swing. Fourth, when bringing kids out to the course, have them tee off from a reasonable distance for their age, even if that means playing from the 100-yard markers. Ask the club where you're playing if they have US Kids Family tees or kid's tees. Only other suggestion I have for parents/grandparents is they may want to include our Little Linksters Golf FUNdamentals Coloring Book as an added tool when introducing their youngster to the game.
Your Little Linkster program has received national recognition.  What separates it from other programs for young children?
My wife and I truly felt that the missing piece to both introducing the game to young kids (and retaining them), was the fact that there has been nothing eye-catching or even remotely identifiable to young children that has to do with golf.  Our Little Linksters brand is designed to capture and retain the interest of the Pee-Wee golfer. In addition to our educational coloring book, through our Little Linksters program we have researched and tested several training aids and have identified the tools that work best for children in the 3-8 age range. It's our goal to make things fun, use tools that are effective and include characters that capture the imagination of the kids.
While our Florida-based program is in its formative stages, our goal is to establish Little Linksters programs throughout the country that are managed and staffed by PGA & LPGA Professionals. Currently, we offer the program at daycares, city parks, schools and YMCA's throughout Central Florida.
The Little Linksters Golf FUNdamentals Coloring Book extends beyond its pages… tell me more? Our newly-released coloring book is an excellent tool to introduce the game to Pee-Wees but it is not the only thing that defines Little Linksters. And while it may be the heart and soul of Little Linksters, our 5-week instructional program is paramount. The Little Linksters Golf Program is a great introduction to the game of golf for any child. The program is taught in a fun and interactive way using a combination of both traditional and very non-traditional golf instruction. The bottom line with the Little Linksters program, it's meant to be FUN, which is also the essence of Little Linksters Golf FUNdamentals Coloring Book.
Brendon is a regular contributor to Junior Golf Central Magazine and serves on the PGA of America's Advisory Committee for the TCA (The Caddy Association) and their Caddy Fore Kids program. Brendon is a supporter of Play Golf America, an industry-wide golf initiative created to bring new players to the game of golf. For more information about PGA Golf Professional Brendon Elliott and his golf instruction programs through Little Linksters, LLC, please visit http://www.brendonelliottgolf.com/.