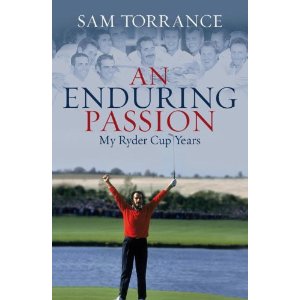 Released October 5, 2010 (in the US, February in the UK) Scottish-born Sam Torrance was a Ryder Cup-winning captain in 2002, a vice captain in 1999 and a leading player in eight consecutive European teams. He made his Cup debut in 1981, famously holed the winning putt at The Belfry in 1985 and was also a member of the first European side to win in America, in 1987.
In An Enduring Passion, Torrance recalls every great moment in the two decades he spent pursuing Ryder Cup glory and looks at how the event has changed.  He examines the tactics and techniques of the captains he played under and those he played against, and tells how his huge experience as a player, and his vice captaincy to Mark James in the bear pit of Brookline, shaped the way he conducted his own captaincy at The Belfry in 2002.
An Enduring Passion is his enlightening account of the competition from an insider's perspective.  Buy it now.
Click the book cover for more information. Or would you rather browse our store?
Click the button to see the full collection of books.