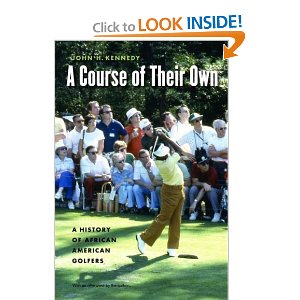 GolfMediaLibrary.com kicks off Black History Month with John H. Kennedy's A Course of Their Own, published in March of 2005.  It has an average 4.5 stars from six reviews.
"A Course of Their Own is a compelling read, a tough read, an enlightening read. And perhaps most of all, it is an important read for anyone who knows and loves the game of golf."—John Steinbreder, Golfweek
"John Kennedy"s A Course of Their Own reminds us that, before Tiger, there were many other black professionals whose abilities may have rivaled his but they never received the chance to play in the Masters nor in any other PGA sponsored events."—J. Paul Leslie, Sports Literature Association
Author John H. Kennedy has been a journalist for nearly three decades and has worked as a reporter and an editor for the Boston Globe and the Associated Press. He is an assistant professor of communication at Rosemont College in Pennsylvania.
Click here for more information.