Amazon announced their third-generation Kindle book reader yesterday. To celebrate let's take a look at what's available in ebooks in case you're ready to take the plunge. Of course you don't need a Kindle to read these* but it does make for a more convenient and enjoyable experience.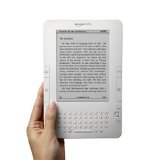 First a look at the new Amazon Kindle, available in two models and two colors. (Click to read more about it. Available August 27th.)
* Kindle is both a device and a book format. You can read Kindle books on the iPhone/iPad/Touch, Android phones, PC, Mac, and several Blackberry phone models.
As of this writing there are more than 630,000 Kindle books (10x the number of iBooks) and these seven are in the top 5,000. The order you see here is as of today so keep in mind that it changes hourly. Nevertheless, we doubt the rankings will change significantly between now and when new Kindles ship on August 27, 2010.